Entry looper and exit looper in color coating line
Entry looper is the hub of entrance section and technological section in continuous color coating line. The dynamic and static performance of tension in continuous color coating line plays a very important role. To solve the problem of tension control, a torque compensation algorithm was developed. Based on constant tension control mechanism, algorithm of looper torque compensation and realization of tension control was suggested. In practice, the control system with good results can meet the technological requirement.
Composition and Structure of the looper:
The looper includes two trolleys moving vertically, and is composed of roller system, winding plant, balance weight, rail and tower steel frame etc.. When charging and discharging the looper, the winding of trolley will pull the trolley to operate up and down, and the encoder on the looper motor records the position of the looper. The looper can also increase the deviation-correcting units as required to guarantee the strip steel not to deviate during the operation process.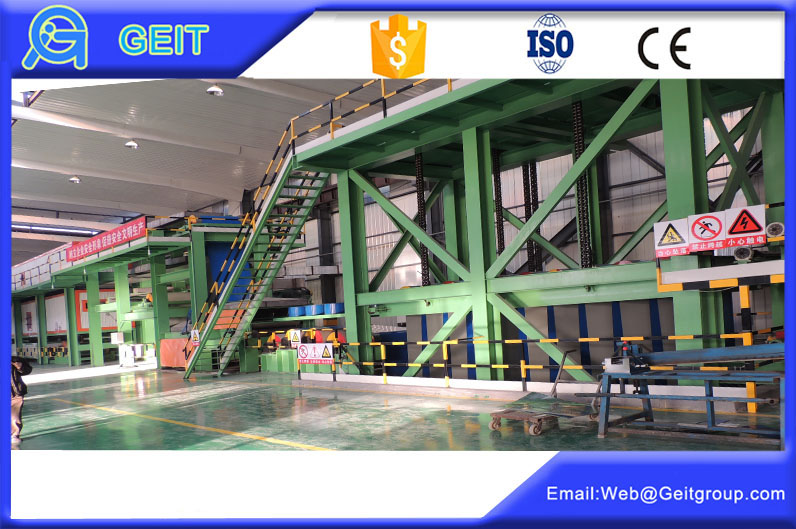 Control System of entry looper and exit looper
The inlet (outlet) looper control system is mainly composed of computer monitoring system, PLC process control system and drive control system. PLC control system is composed of SIEMENS S7-300 series of programmable controller, and communicates directly with the drive control system by means of profibus-DP communication. PLC program processes the speed control and tension control. The control mode and tension parameters of looper are operated by operators on the operation desk and operation control screen. The computer monitoring screen displays the charging and discharging speed of looper, the storage capacity of looper and the tension of looper etc.. Control of inlet (outlet) loopers mainly includes position control, synchronous control, speed control and tension control.