Electrical Transmission System
Introduction:
The electrical control equipment of the production line of color-coated sheet mainly include automation control system, AC transmission system, AC variable-frequency transmission system, AC motor control center, operating system, detection element and secondary instrument etc..
The whole production line is set with general control system, and its core is an industrial PC machine, through which, the general control system communicates with the line body control system.
The whole control system adopts PLC control and has remote modules through the bus; the control cabinet of each module is put near the corresponding control equipment, and meanwhile, is set with manual operation desk corresponding to the control cabinet. Touch screen operation panels are set at the inlet section, stretching-bending straightener section and outlet section and communicate with PLC through the bus. Besides, through the touch screen operation panel, it can implement operation status control and operation parameter adjustment to each load under the corresponding module, and meanwhile, it can display the operation status of such load and implement control and monitoring. The operation panel can either receive the operation commands and set parameters of the operating personnel, and send the commands to PLC CPU, or receive PLC signal to display the current status and system parameters of the equipment. The remote I/O module is responsible to collect the detection signal of the production line and control the executing elements of the production line.
Multiple emergency stop buttons and appropriate prompt and alarm devices are set in the whole line for processing emergencies, so as to guarantee the security of equipment and operating personnel.
Detection devices and control devices are set in the whole line. The detection devices are divided into deviation-correcting, alignment and speed detection devices and temperature detection devices etc..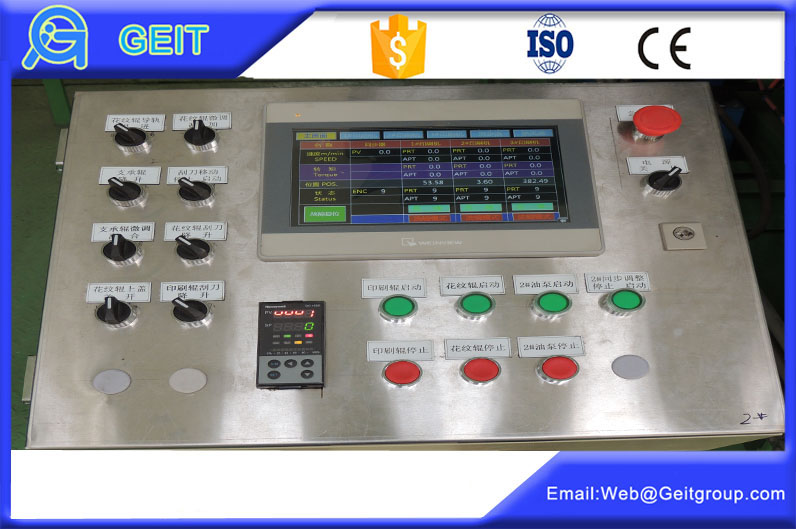 Main functions:
1)Input, storage and modification of parameters in the raw material sheet.
2)Display of equipment status during the color-coating process, setting and display of electrical parameters.
3)The man-machine operation interface adopts touch screen or computer WINCC
4)The tension in furnace is controlled and adjusted automatically.
5)Setting and display of speed, tension and other process parameters of the whole line.
6)Operation and display of electrical equipment
7)Alarm, elimination, help and records of faults
The system can use Siemens system, Yaskawa system and Siemens-Yaskawa mixed system.