Continuous galvanizing line(CGL)
The purpose of the Continuous Galvanizing Line (CGL) is to apply a coat of zinc onto the surface of steel sheets in an effort to increase their corrosion resistance. There is a wide range of control of zinc coat thickness, and the galvanized steel sheets are used for a broad range of purposes, including construction materials, automobiles and electrical appliances.To meet the growing demand of the market for zinc-aluminium coating, GEIT has developed and adapted its equipment to be able to produce Zn-Al coated strips under the best quality conditions for very different steel grades.
We support all types of coating kinds, such as GI, 5% Al-Zn, and 55% Al-Zn. Our proprietary air knife, NS blade™, enables high levels of precision in the control of zinc coating weight, covering a wide range of zinc coating, from low-speed thick coating to high-speed thin coating. It effectively inhibits zinc splashing and edge overcoating – problems that particularly affect the high-speed thin coating of steel sheets. We also design after pot cooling equipment installed with heating and cooling devices suited to the steel grade being processed.
Continuous galvanizing line work process:

Technical Data of continuous hot dip galvanizing line(CGL):
a) Machine Model

CGL-1000-50

CGL-1250-100

b) Type

Coil-to-Coil

Coil-to-Coil

c) Raw Material

Coil rolled low carbon steel (full hard & annealed)

d) Coil Thickness (mm)

0.17 ~ 0.8

0.17 ~ 0.8

e) Coil Width (mm)

762 ~ 1000

762 ~ 1250

f) Coil I.D(mm)

Ø508

Ø508

g) Coil Weight (Ton)

20

20

h) Production Capacity (Ton/hr)

4.0

9.0

i) Zink Coating Weight (g/m2)

183

183

j) Line Speed (m/min)

50

100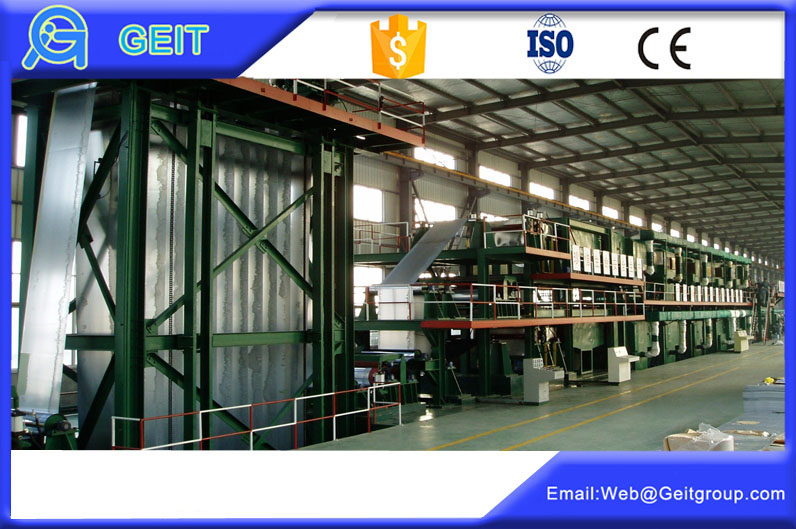 The process comprises a number of technically-advanced intermediate stages, e.g. degreasing, pickling and rinsing, which result in the achievement of a clean surface, ready to be immersed in a zinc bath. The final product of the HDG process is a multi-layered protective coat. Its innermost layer, the so-called Gamma layer, is formed by Fe and Zn compounds, where iron makes for 25%. The thickness of this layer is approx. 1 μm. Going towards the surface, the second layer, Delta, contains up to 10% of iron. The iron content in the third subsequent layer, Zeta, is even smaller. At the surface, the external coat of steel is nearly completely composed of pure zinc.
The minimum required thickness of zinc coating is worked out on the basis of the following data:
thickness of the steel item to be galvanized,
time of immersion in the zinc bath,
silicon and phosphorus content in the steel.
A properly applied zinc coat should hold for 10 to 100 years, depending on its thickness and the influence of mechanical erosion and aggressive environments.
Hot-dip galvanization is a cost-effective and environmentally friendly method of corrosion protection of steel, which provides high performance anticorrosive coats that are pleasing to the eye.