Steel/Aluminum coil coating lines
Coil coating is a continuous, automated process for coating metal before fabrication into end products. The steel or aluminum substrate is delivered in coil form from the rolling mills. The metal coil is positioned at the beginning of the coating line, and in one continuous process, the coil is unwound, pre-cleaned, pre-treated, pre-primed, and prepainted before being recoiled on the other end and packaged for shipment.
On the basis of decades of experience in designing, manufacturing, installation and commission of steel and aluminum coil coating lines, GEIT group offers optimized solutions for different coating types, colors, various steel /aluminum grades and varying strip dimensions. In addition to imparting an aesthetically pleasing and decorative appearance to the strip, color coatings substantially improve corrosion resistance, especially for outside use. The strictest demands for high-end applications are fully met, such as in the automotive and household appliance industries. Both primary and secondary organic coating layers can be imparted to both strip sides, including the application of polyesters, epoxy, polyurethane, PVDF, acrylic and plastisoles.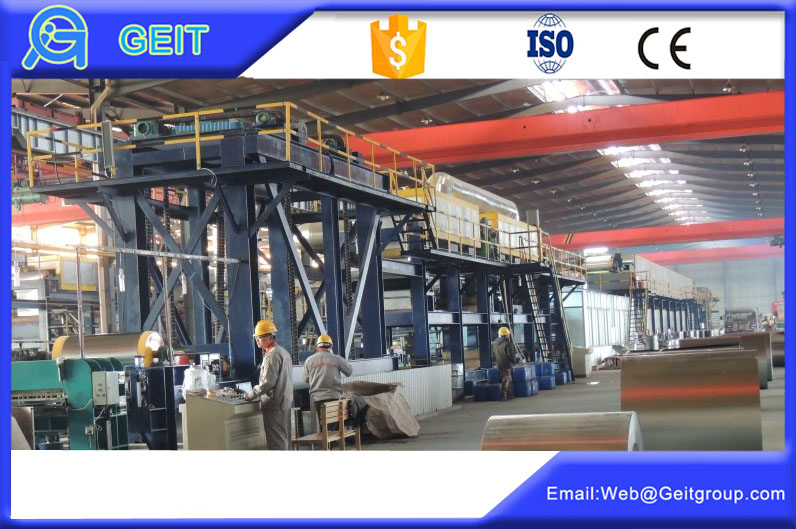 COILCOATING LINES PROPERTIES:
POLYESTER COATING
Polyester coating is the most widely used technology on the coated metal market because of its optimum performance and cost efficiency.
The technology provides Standard UV protection with optimum corrosion resistance with coating thickness of 20μ on top of 5μ of primer coating.
This coating technology also has the benefit of improvement with suitable additives which might make the final product more durable, more flexible, glossier etc.
Polyester coated products are suitable for both interior usage for aesthetic purposes and exterior usage with a suitable upgrade if required.
PUR-PA COATING
PUR-PA technology provides excellent scratch and corrosion resistance due polyamide particles presented in its structure.
The common application thickness is 20μ however this technology is suitable for higher thickness applications up to 50μ.
The high flexibility, high corrosion resistance modifications are possible with high thickness applications or different primers in order to provide best choice for customer requests.
PUR-PA coated products are good choice for exterior applications that require high abrasion and corrosion resistance and also they are suitable for home appliance due to their flexibility.
PvDF COATING
PvDF technology is based on thermoplasticity and it is the best application for maintaining colours and brightness for long-term due to its high UV-resistance property.
The typical application thickness is 20-25μ but double or triple layers are also possible which makes very color and brightness options possible without any UV-resistance loss.
Apart from excellent UV-resistance, this technology has also very high chemical resistance.
PvDF coated products are suitable for interior use however for its extreme capabilities, products are usually become parts of architecture structures.
PLASTISOL COATING
Plastisol technology is another thermoplastic application in the industry. This technology has a unique property of high thickness applications.
The standard application thickness is 200μ and lowest 100μ is also possible if required.
Although it is susceptible to high temperature environment (>80°C), it has excellent flexibility abrasion resistance.
Plastisol coated products are good choice for roofing application where rain abrasion is seen, moreover it is suitable interior facades.
PET LAMINATION COATING
PET lamination technology provides a wide range of colour and texture with low-dirt pick up and easy cleaning properties with thickness 15-40μ.
PET laminated products are usually used for home appliances.
PVC LAMINATION COATING
PVC lamination technology provides a wide range of colour and texture with good flexibility and hardness that is also suitable for deep drawing and has the thickness 100-200μ.
PVC laminated products are preferable for food-safe applications and also applications that requires high UV-resistance.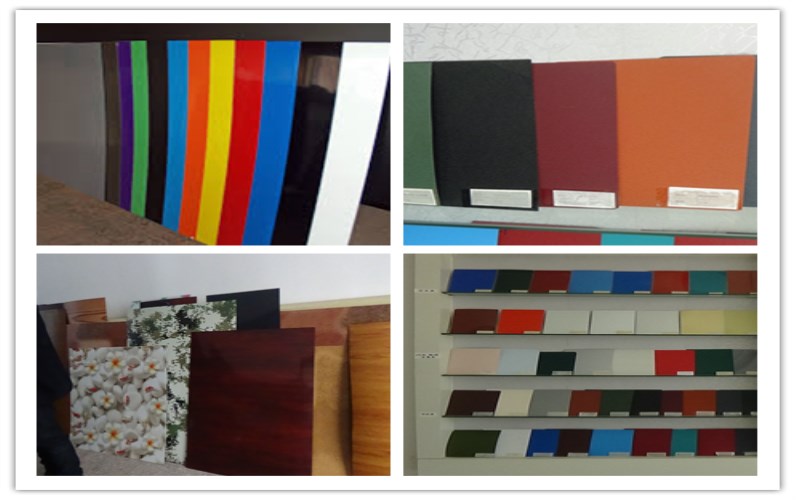 The colored metal coil produced by our coil coating line all has good performance, such as great stainability, moldability, corrosion resistance and decoration is like the organic polymers. Besides, it has high strength and it is workable. Frankly, it is easy to cut, curve, deep-draw and solder. The organic coated steel products are practical, decorative, workable and durable. They are mainly applied to following field:
Roofing and wall cladding
Guttering
Fence and walls
Building products
Cool room panels
Roofing tiles
Drum ends
Housings and casings
Rainwater goods
Whitegoods (appliances)
Industrial furniture and racking
Office furniture