650-1250mm continuous hot dip galvanizing line is to unfolding the steel coil of diameter 650-1250, through the cleaning, annealing, galvanizing, chromate and coating oil process to winding to finish product coil. The 650-1250 hot dip galvanizing line which GEIT GROUP designed can reach the speed of 120mpm, annual output can reach 150,000tons.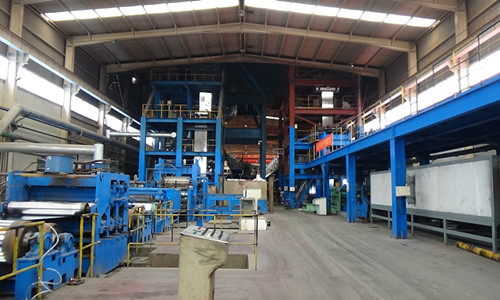 According to the process requirement, the whole galvanizing line i divided into seven tension segments, make up three working area(exit segment, processing segment and exit segment).
Entry & exit segment :30~150m/min
Processing segment: 30-120m/min;
Threading speed:20 m/min
1. Entry segment:
Equipped with two uncoiler, one for work, one for material preparation. Uncoiler with power, active uncoiling, the tension in this uncoiling part can be adjusted.
Equipped with Hydraulic shear to improve the flexibility of preparation process.
The welder adopts C-type Narrow lap resistance welder, double-edged scissors inside, punch hole technology finish at same time.
Entry looper storage capacity max 300m. exit vertical looper storage capacity max 200m.
2.cleaning treatment
Cleaning treatment including degreasing, roller brush, water washing etc. This process is Used for removing impurities such as grease and iron powder on the surface of steel plate.
Each cleaning process equipped with a squeeze dryer to ensure the tank liquor relatively stable and plate surface is clean and dry.
The degreasing process equipped with oil remove unit.
Equipped with water vapour system.
Equipped with air purge set, to dry the plate surface after pre-treatment.
3. Continuous annealing furnace:
The horizontal;energy;NG;
Max hour output:26.00t/h; 115m long
4. Zinc pot
Ceramic zinc pot of 50Hz induction, 160tons'capacity, max, power 2×400kw。
Equipped with three roller six arms and air knife.
5.Post-treatment process
Post-treatment including air cooling, water cooling, planishing, tension leveler, fingerprint resistance roller coating, oil coating.
Air cooling adopts clean natual wind to spray the steel strip at high speed.
Water cooling adopts circulating cooling water to cool the immersed strip steel.
Skin pass mill: wet planishing of four rolls, max pressure 300tons
Leveler: twice bending and one leveling, percentage elongation 0.5~3.0%
passivation(Fingerprint resistance) : The surface of the steel plate is oxidized to form a dense oxidation film to prevent subsequent corrosion.
Oil coating: Use electrostatic oiling method.
6.Exit segment
Exit looper storage capacity max 200m, 2 min.
Equipped with recoiler and corresponding CPC, EPC deviation correction device; German SIEMENS'control system.
7. Transmission system
The tension of steel strip is produced and regulated by uncoiler, coiler, bridle
rolls and loopers. The maximum tension is produced in leveling segment, which is 15,000kg.
The whole production line transmission system adopts AC speed control system, AC motor reducer adopts domestic famous brands.
8. Hydrualic system
It is composed of common hydrualic system, Servo hydraulic system and planishing hydrualic system.
9. Electrical and automatic system
High degree of automation, adopts PCL bus networking control, the operator can access to a large amount of reliable tracking data and production information at any time.
Each single machine of this galvanizing line has individual control system, with separate debugging function.