Continuous hot rolled galvanizing lines
Hot Galvanized Steel Coil and alloying Galvanized Coil have excellent performance, possessing ideal comprehensive properties of corrosion resistance, formation and coating. In order to cater the variegated demands of our precious clients, we are offering an excellent quality range of Hot Rolled Galvanizing Lines.
Galvanized steel (GI) are mainly used in building, automobiles, metallurgy, electric equipments and more.
Building – roof, door, window, roller shutter door and suspended skeleton
Automobiles – vehicle shell, chassis, door, trunk lid, oil tank, and fender
Metallurgy – steel sash blank and color coated substrate
Electric equipements – refrigerator base and shell, freezer, and kitchen equipment.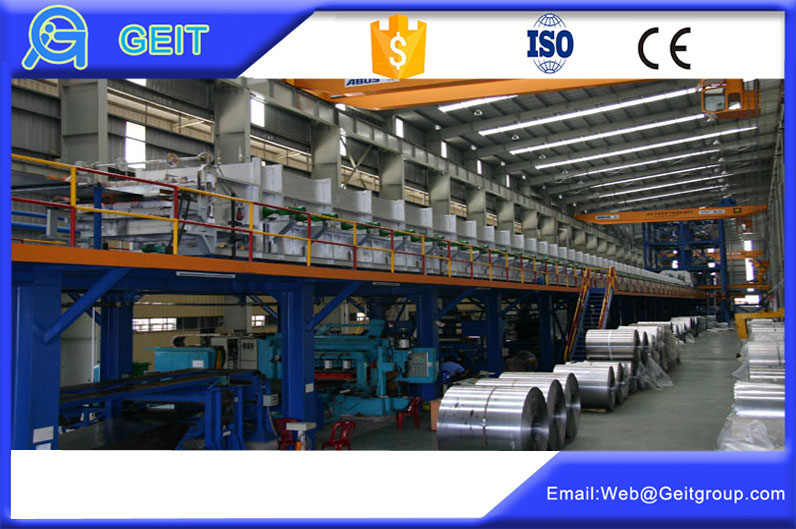 The continuous high-speed hot rolled galvanizing lines include the following sections, assemblies, and machines:
Input section:
1. Coil rack
2. Loading carriage
3. Dual decoiler system- -Alternative operation of decoilers, coil weight 10 to 40 t
4. Two thickness gages - Designed for initial strip thickness control
5. Dual guillotine shears - for cutting the beaded edges of the strip in the alternatively used coils
Butt-welding machine - is equipped with straightener rollers and performs welding of strip ends of two coils; weld thickening no more than 10%, weld strength no less than 85% of the main strip characteristics
6. Looping pit
7. Disc shears - Designed for cutting the strip side edges; shearings are cut up by scrap cutter
8. Stretching machine
9. Stretching rollers
10. Multistorey storage loop (accumulator) - Automatically monitors the strip stock and has end trolley for constant stretching of the strip.
Strip electrochemical cleaning section
The strip is cleaned in baths with alkali solution; after that, it is washed and dried in a way similar to that described for the strip pickling line above.
Strip hydro-dynamic cleaning section
1. Guide rollers
2. Two vacuum housings
3. Dual rotary blowers
4. Dual high-pressure pumps
5. Two cyclone separators
6. Circulation water treatment system
Strip thermal treatment section
1. Strip tensioning regulator
2. Scale-free heating furnace - The strip is heated up to 450–470°C to burn the grease residues; this is followed by metal annealing to 730–950°C, depending on the material.
Strip jet cooling unit
1. The unit operates under staged accelerated cooling principle and includes the following:
2. Cooling chamber body with lining layer
3. Fan
4. A set of water-cooled tube-type heat exchangers
5. A system of nozzles for jet supply of shielding gas to the strip
6. Shielding gas automatic control system
Decay chamber
Operates at temperature about 500°C.
Strip galvanizing section
1. Inclined channel (section)
2. Filled with shielding gas and protects the heated strip (500°C) from air contact
3. Bottom immersed drum with stellen or ceramic journal bearings
4. Stabilizing roller with journal bearings
5. Correcting roller with journal bearings
6. Noncontact jet device for coating thickness control
7. Electromagnetic strip stabilizer built on air doctor (EM-stabilizer)
8. Bath heating system
9. Removable inducers
10. Gas burners
11. Immersion ceramic heaters
Strip cooling section
1. Metal tempering furnace - Maintains temperature at 320–350°C
2. Strip air-cooling chamber
3. Galvanizing coat thickness gage
Strip straightening and planishing section
1. Strip alignment system
2. Two planishing stands
Strip rolling with squeezing 0.5–1.5% which is controlled by induced-pulse sensors and strip tensioning regulators
Planishing stands is equipped with zinc removal plant for rolls
3. Stretch straightening machine (machine for straightening by stretching)
4. Passivation bath
Exit section:
1. Strip feeding device
2. Vertical storage loop (accumulator)
3. A feeding device with a mechanical side guide
4. Surface quality control system
Width control device
Penetration defects control
Radiation thickness gage
5. Strip electrostatic oiling unit ( strip oiler )
6. Dual tension reel for finished strip (coiler)
7. Strip marking plant
8. Cross-cutting shears for finished strip
9. Overhead crane
10. Tilting cradles for finished coils
11. Finished coils rack