GEIT GROUP designed the 100000tons hot dip galvanizing line technical proposal as follow for Iran for your reference. it describes some basic technical parameters and work flow in the steel stirps galvanizng process. if you are interested in start this project, please don't hesitate to contact us for further information.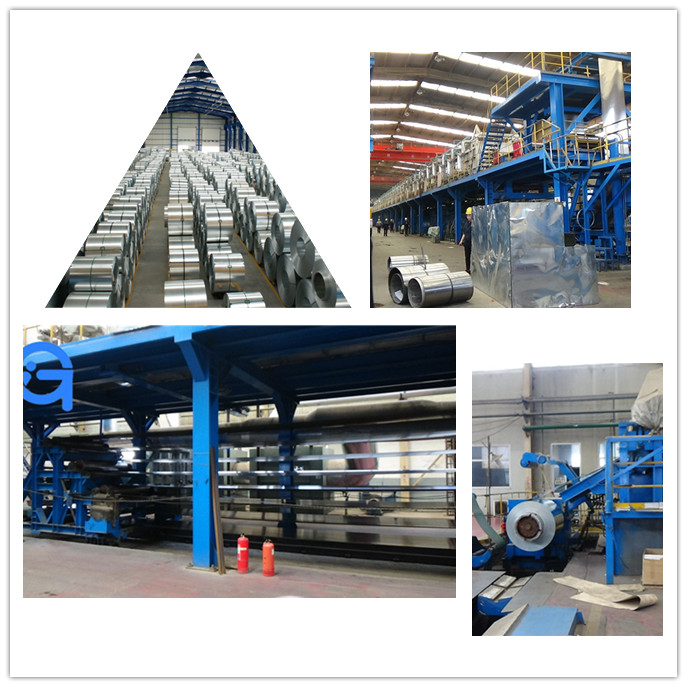 The main technical parameters of 100000tons hot dip galvanizing line as follow:
| | |
| --- | --- |
| The sort of steel | SPCC,SPCD HSLA |
| Limit of strength | σb≥710 Mpa |
| Yield strength | σs≥710 Mpa |
| Thickness | 0.50~ 2.00mm |
| width | 500~1500 mm |
| Inner diameter | Φ508 mm~610mm |
| Weight | Max. 25 t |
| Outside diameter | Max Φ2100mm, Min Φ900mm |
Manufacture standard

GB2518-2004and JIS、EN、ASTM

Limit of strength

CQ: σb=270-480 Mpa

DQ: σb=270-380 Mpa

HSLA: σb=270-590 Mpa

Inner diameter

Φ508 mm

Outside diameter

Max Φ1500mm; Min Φ900mm
Production capacity of the uni
t:
100
,
000
ton/year
Arrangement of the unit:
Transmission side of the unit is arranged decided by buyer on the site. The total length of the unit is 200m, the apex is +9200mm (excluding cooling tower) and the max width is 9m.
The types & parameters of main equipment
● Welding machine:
FNY-200C edge overlap automatic welder
Thickness of welding steel strip: 0.50~2.0mm
Width of welding steel strip: 500~1500mm
Overlap: 1~5mm
Height of weld: less than 20% of base material
Max Welding time:45Sec. Max automatic welding cycle: 60Sec
● Looper:
the effective storage of horizontal entry looper is Max200mm,
that of vertical exit looper is Max200mm.
●Continuous annealing furnace:
The horizontal;energy;NG; Max hour output:18.50t/h; 85m long
● Zinc pot:
Ceramic zinc pot of 50Hz induction, 160tons ' capacity, max
power 2×300kw
● Skin pass mill:
wet planishing of four rolls, max pressure 300tons
● Leveler:
twice bending and two leveling, percentage elongation 0.5~3.0%
● Transmission control:
SIEMENS control system by AC variable frequency
for drive transmission
● CPC, EPC deviation correction device
German SIEMENS control system.
If you have demand on this type of hot dip galvanizing line, please reply us with your exact requirement so that we can recommend you a most suitable proposal.
GEIT GROUP will always be service!